The most difficult population in all of mental health…clients with personality disorders.
The manipulative and possibly violent clients with Antisocial Personality Disorder
Clients with Borderline Personality Disorder who are out of control, have explosive emotions, self-harm tendencies and cravings for chaos
The perfectionist clients with Narcissistic Personality Disorder who are quick to blame and combative to overpower you in session
Clients with Histrionic Personality Disorders whose intense emotions and need for attention test your patience and compassion
Traditional psychotherapies and medications don't effectively treat these clients, so their resistance to treatment can leave you feeling frustrated, trapped, and even wishing you'd picked a different profession all together!

But I have good news — after 50 years of intensive global research, we now have proven, empirically validated models to effectively treat personality disorders.

Now, in this certificate course, I'll provide you with a transformative, step-by-step plan that will empower you to accurately understand and successfully treat all 10 personality disorders. You'll learn exactly what to say and what to do when treating the disorders, structured in a simple, uncomplicated manner that you can quickly master and automatically resource whenever you're working with your clients.

End this course with your CPD Certificate in Personality Disorder Treatment & Management and the complete framework for integrating advanced personality disorder treatment strategies in your very next session.

I've trained more professionals on personality disorders than anyone in history, and I promise you, after this training you will never again be unsure of what to do with this client population. This is a must-have training for all clinicians!

- Gregory W. Lester, Ph.D., Psychologist and Personality Disorder Treatment Author, Instructor, and Clinician
---
Become an expert at working with personality disorders and help your clients build happier relationships and live more fulfilling lives!

Join world-renowned personality disorder treatment expert, Dr. Gregory Lester for this practical and comprehensive online CPD certificate training and get a session-by-session guide for effectively diagnosing, managing, and treating personality disorders.

Using real-life case examples and easy-to-follow training sessions, you'll not only learn the neurobiological, genetic, and developmental roots of personality disorders, you'll discover how to successfully rewire a person's sense of self so they can function more effectively and build better social connections.

This is the perfect, expert-level training opportunity for working with all 10 types of personality disorders, including Borderline PD, Antisocial PD, Obsessive-Compulsive PD, Narcissistic PD, Paranoid PD, and more.
Here's what you'll learn to do in this CPD certificate training...
Differentiate between mental health symptoms and a personality disorder
Gain clarity and confidence with cutting-edge techniques
to diagnose, treat, and manage all 10 personality disorder types
Understand significant problems typically created by clients with personality disorders
and develop clinical strategies for symptom management
Implement empirically validated treatment interventions
for clients with personality disorders
Recommend interventions to manage suicide risk
Adapt treatment strategies for working with personality disorders in couples and family therapy
Learn the language of personality disorders
and why traditional approaches and medications won't work with this client population
Leverage practical, effective interventions informed by neuroscience
that help clients safely manage frightening symptoms, including violence and emotional meltdowns
Develop a therapeutic alliance
in the face of mistrust, control issues
Work with the pathological dissociation
typically present in personality disordered clients
---
Through six comprehensive video modules, expert trainer Dr. Gregory Lester uses passion, humor, and wisdom from his 38 years of treatment experience to guide you through the essential insight needed for effective treatment of personality disorders.
Advanced Assessment & Treatment Effectiveness, Part I
In Module One, you'll gain a foundational understanding of personality disorders — including the 10 types of personality disorders, the common behaviors associated with each disorder, and the underlying structure that make them different than all other areas of therapy. In this module, you'll learn...
The Distinction "Personality Disorder"

Why traditional models of mental health don't fit
What makes a personality disorder a chronic condition?
Why personality disordered people think "it's everybody else"
Why "normal" talking with personality disordered people is ineffective

The Effects of a Personality Disorder

How personality disordered people create difficulties for themselves and others
The difference in life pattern between "normal" and "disordered" personality
How to predict the behavior of individuals with personality disorders
The type of chaos created by Cluster A, B, and C personalities
Advanced Assessment & Treatment Effectiveness, Part II
In Module 2, you'll begin the step-by-step process of effective diagnosis and treatment of personality disorders. Dr. Lester will guide you to an in-depth understanding of the causes of personality disorders and teach you how to set effective treatment strategies and goals. In this session, you'll explore...
Assessment and Diagnosis of Personality Disorder

Why diagnosis is EVERYTHING in treatment of personality disorders
5 steps to identify and diagnose a personality disorder

Why the Etiology of Personality Disorders Matters in Treatment

The single biggest mistake clinicians make regarding etiology

Treating vs. Managing Personality Disorders

Predicting "treatability" of a personality disordered client
How to choose an intervention approach
The structure that makes all interventions effective
Developing effective treatment goals for Cluster A, B, and C personalities
Advanced Intervention Approaches in Action, Part I
This module will lay the foundation for an effective and appropriate treatment plan by reviewing the benefits and risks from a variety of empirically validated approaches used to treat personality disorders. You'll learn to identify the treatability level of your clients so you can properly match your intervention technique with their therapeutic goals. In this session, you'll explore...
Optimal functioning methods

Mentalization-Based Treatment
Transference-Focused Psychotherapy
Interpersonal Reconstructive Psychotherapy
Object Relations Developmental Psychotherapy

Adequate functioning methods

Dialectical Behavior Therapy
Schema-Based Treatment
Personality-Guided Psychotherapy

Targeted behavior improvement methods

Tactical Therapy
Strategic Therapy
Structural Therapy

Limitations and risks of the psychotherapeutic approaches
Advanced Intervention Approaches in Action, Part II
In this module, Dr. Lester will guide you through the step-by-step plans for effectively treating and managing personality disorders — including the three must-have interventions that all therapists need for working with this population. In this session, you'll get access to...
4-Step Approach to Effective Personality Disorder Treatment
3-Step Approach to Effective Personality Disorder Management
3 Must-Have Intervention Techniques for Personality Disorders
Special Issues with Personality Disorders, Part I
In module five, you'll learn essential insight for working with comorbid conditions in all 10 types of personality disorders — including how to work with your client's medications. Then Dr. Lester will prepare you with strategies to use when working with cases of self-harm and suicidality.
Interventions for Co-occurring Conditions

Typical co-occurring disorders for the 10 subtypes
Sequencing interventions for co-occurring conditions
Medication do's and don'ts with personality disorders

Crisis Management: Self-Harm and Suicide Interventions
Special Issues with Personality Disorders, Part II
In this final module, Dr. Lester will guide you through the process of working with personality disorders in special client cases, including young clients, couples, and families so your treatment effectiveness can continue long after your client leaves your office.
Personality disorders in children and adolescents
Special procedures for couples and family therapy sessions
Working with significant others of a personality disordered individual

Methods to help them stay out of difficulties
Coaching for effective management
Self-care for significant others
---
Enroll today and you'll get these FREE Bonus items (A £98.48 value!)...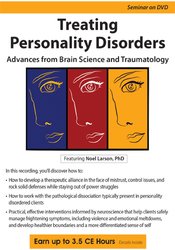 CPD Video | Treating Personality Disorders: Advances from Brain Science and Traumatology
By: Noel R. Larson, Ph.D., MSW
Clients with personality disorders—narcissistic, borderline, antisocial, sociopathic—often have profound traumatic childhoods, which leave them without a solid inner core from which to function. Often "nudged" into treatment by others, including the law, their inability to trust and their need for power make forming a therapeutic alliance seemingly impossible. They come armed with defenses developed at very early ages that are designed to ensure their survival by protecting their fragility. In this recording, you'll explore practical, effective interventions informed by neuroscience that help clients safely manage frightening symptoms, including violence and emotional meltdowns, and develop healthier boundaries and a more differentiated sense of self.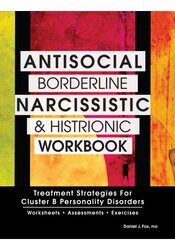 Digital Download | Antisocial, Borderline, Narcissistic and Histrionic Workbook: Treatment Strategies for Cluster B Personality Disorders
By: Daniel J. Fox, Ph.D.
Developed from years of experience working with complex and challenging clients, Daniel Fox, Ph.D., has created the ultimate workbook to help effectively treat clients with antisocial, histrionic, narcissistic and borderline personality disorders.

Utilize unique worksheets, checklists and other exercises to diagnose, tackle specific issues, reduce problematic symptoms and keep therapy moving forward. Take advantage of concrete methods to:
Reduce self-mutilation and other risky behaviors
Improve attachment, collaboration and trust
Determine narcissistic drives for perfection and excellence
Lessen flirtatious behaviors
Conquer maladaptive beliefs and diffuse narcissistic resistance
Apply DBT strategies and skills into treatment
---
Who is this training for?
This CPD certificate training has been specially created for professionals looking to incorporate cutting-edge personality disorder treatment techniques in their clinical work, including Psychologists, Counselors, Social Workers, Addiction Counselors, Marriage & Family Therapists, Psychotherapists, Case Managers, Nurses, and more. The education provided in this intensive online training is designed to breathe new life into your clinical treatment plans for clients who are struggling with even the most challenging personality disorders, including narcissistic, borderline, antisocial, sociopathic, and much more.
This interactive online CPD certificate training also offers you a community of peers and mentors all focused on helping clients succeed.
CPD Credits Available!
Want to know more about the course outline?
Click here for course objectives and outline.
Additional questions about this CPD certificate training?
Please contact customer service us at 01235 847393.
---
CPD Certificate of Completion
In recognition of completing this intensive training, participants will be awarded a CPD certificate of completion.
Your CPD certificate not only showcases your personal and professional accomplishment, but it also distinguishes you from your peers and shows your clients, your colleagues, and employer your continued dedication to improving therapeutic outcomes.
---
---
Featuring Today's Leading Expert in Treating Personality Disorders
Gregory W. Lester, Ph.D., World-Renowned Expert and Author
Gregory W. Lester, Ph.D., is a clinical, consulting, and research psychologist with practices in Colorado and Texas. Dr. Lester has presented over 2,000 personality disorders trainings to over 200,000 professionals in every major city in the United States, Canada, and Australia. In his nearly 40 years of clinical practice, Dr. Lester has treated over 1,000 personality disorder cases and has performed psychological evaluations on over 2,500 individuals. He is the author of nine books, including Diagnosis, Treatment, and Management of Personality Disorders, which is the largest-selling front-line clinical manual on diagnosing, treating, and managing personality disorders. Dr. Lester's research and articles have appeared in publications including The Journal of the American Medical Association, The Western Journal of Medicine, The Yearbook of Family Practice, The Journal of Behavioral Therapy, The Journal of Marriage and Family Therapy, The Handbook of Depression, Transactional Analysis Journal, Living Word Magazine, The Priest Magazine, and The Houston Lawyer.
Click here for information about our Speakers
.
---
Learning that Fits YOUR Schedule:
Watch your email for your order confirmation
, and get instant access to all course materials plus the FREE bonus video and PDF download — all designed to help you effectively and accurately diagnose and treat personality disorders in your clients. Review all the course materials at your own pace and at your convenience!
Click here for course objectives and outline
Access all course videos and materials online forever. Plus, use the CE21 Mobile™ app to access the course content on-the-go, wherever and whenever you want on your mobile devices.
Instantly collaborate with other professionals on the course materials through interactive message boards. You'll be part of a community of hundreds of practitioners all focused on mastering these practical personality disorder treatment interventions, providing valuable opportunities to share insight and experiences and to build your professional network.
Complete your online CPD tests and earn 19 CPD Hours!
100% Satisfaction Guarantee
Register for this comprehensive training course without risk. If you're not completely satisfied, give us a call at 01235847393. We're that confident that you'll find this learning experience to be all that's promised and more than you expected.
---